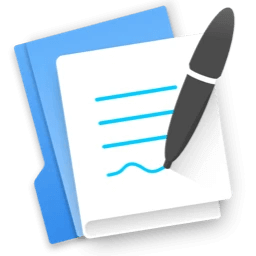 GoodNotes
mac cracked app – GoodNotes is a very easy-to-use and
practical
note-taking software . If you have more scenes in your life and need to take notes and organize information, it will be a good editing tool.
GoodNotes Software features:
1. GoodNotes can import files through iCloud Drive / iTunes / Dropbox and Open in. In addition to PDF, the file types that can be imported can also import Office / iWork files. Its advantage over other PDF readers is that it is essentially a handwritten note application, so you can perform all the above functions when writing on PDF, which makes its writing experience much better than other PDF readers. Secondly, there is another function that I can't find which App can do is copy the page of one file to another file. Of course, it can also do regular highlight text, add pages and adjust the page order. With these tools, you can make PDFs freely.
2. It supports the fast writing mode. You can use the fast writing mode during meetings, classes, or other shorthand needs. It can enlarge the part to be written to the writing box at the bottom of the screen. As your writing progresses, it automatically shifts to the right and wraps. Provide a laser pointer tool. When you need to explain to others, as long as your device is connected to a monitor or projector, the laser pointer function will appear. When a finger is placed on the screen, a laser spot will appear, you can use it to replace the whiteboard to explain to others clearly.
Mac cracked app screenshot:
---